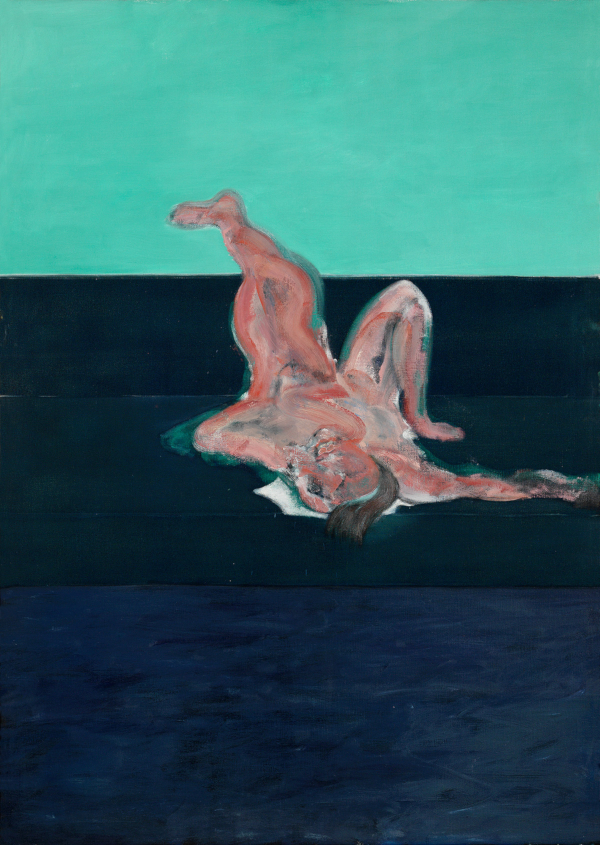 Lying Figure is one of several Francis Bacon paintings currently on view at Gagosian London in the exhibition Francis Bacon: Couplings* — on through to 3 August 2019. This Catalogue Raisonné Focus looks at the situation Bacon was in when he came to paint it, the effort that went into its creation, and the painting's exhibition history.
In 1959, after finishing no paintings to his satisfaction on a trip to Tangier, Bacon returned to London ahead of his first solo exhibition at the Marlborough Gallery needing to paint more works to display. Bacon moved to St Ives Cornwall, allegedly in order to paint without London's distractions. In the Francis Bacon: Catalogue Raisonné Martin Harrison, FSA, writes of the attention Bacon gave Lying Figure, 1959:
'Bacon attached great importance to the painting, and Ron Belton, who was with him in St Ives, said that he made six attempts at it; more canvas for the purpose had to be sent to Cornwall from Chelsea Art Stores, and Bacon had all six versions arranged in a circle at Porthmeor Studios.'
Perhaps Bacon would have been comforted to know that his effort was not in vain — with the painting having been since exhibited in cities around the globe: London, Zürich, New York, Chicago, Vienna, Riehen/Basel, and Paris. Fittingly Lying Figure has also exhibited at the Tate St Ives, in the exhibition 'Francis Bacon in St Ives, Experiment and Transition 1957–62' in 2007. Read the painting's exhibition history and a selected bibliography here.
Now, Lying Figure has returned to exhibit in London in Francis Bacon: Couplings at Gagosian until 3 August 2019. Find out more about this exhibition on our previous article and the exhibition website.
If you'd like to find out about ordering a copy of the Francis Bacon: Catalogue Raisonné please visit Heni Publishing's website.
Excerpts and word ref: Martin Harrison, FSA. Lying Figure, 1959, Francis Bacon: Catalogue Raisonné, 2016, Volume III, pages 574–575.
*Please note venue and ticketing terms and conditions may apply. All details including dates, names, featured works, opening days/hours are subject to change. If you're planning a visit, we first recommend checking with Gagosian for all confirmations regarding this exhibition.