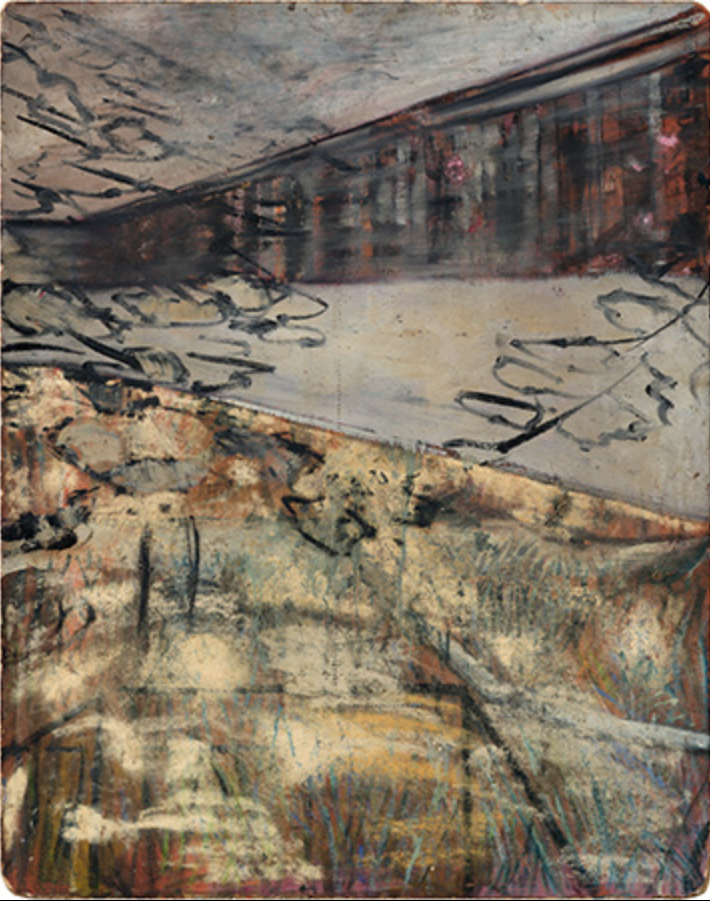 For this month's Catalogue Raisonné Focus we're taking a look at 'Landscape with Colonnade', c.1945. When Bacon peremptorily left his studio at 7 Cromwell Place in April 1951 and sold the lease to Robert Buhler, he left many paintings behind. Most of the works were sold by Buhler in 1953, but this is one of two that stayed in his family until 2008, when it came onto the London art market.
Francis Bacon painted this work on a layer of paper which was adhered to a fibreboard support; it covered an earlier work that was produced directly onto the board. Financial expediency was most likely a factor when he came to recycle the fibreboard in this most convenient way.
'Landscape with Colonnade' is perhaps the most inscrutable of Bacon's initial essays in freely brushed painterliness. It is executed with a distinct robustness that seems to renunciate Picasso-styled contours and forms. Within the paint remnants, bony biomorphs appear to be present, along with partially eradicated geometric structures.
The colonnade in this unconventional and unpopulated painting is likely to have come from photographs of one of Albert Speer's buildings, or of another neo-classical colonnade. The same steep and diagonal perspective was also employed by Bacon for the streetscape setting in Study of a Dog, c.1954 and in the Van Gogh series of 1957. 
'Landscape with Colonnade' has only been displayed a handful of times since it was introduced to the public eye in 2008: twice at auction with Sotheby's in 2008 and 2014 and within a group exhibition at the Pace Gallery, London in 2015.
Read the painting's full exhibition history and selected bibliography on the work's dedicated website page.
Francis Bacon: Catalogue Raisonné can be purchased through our distributor's website.