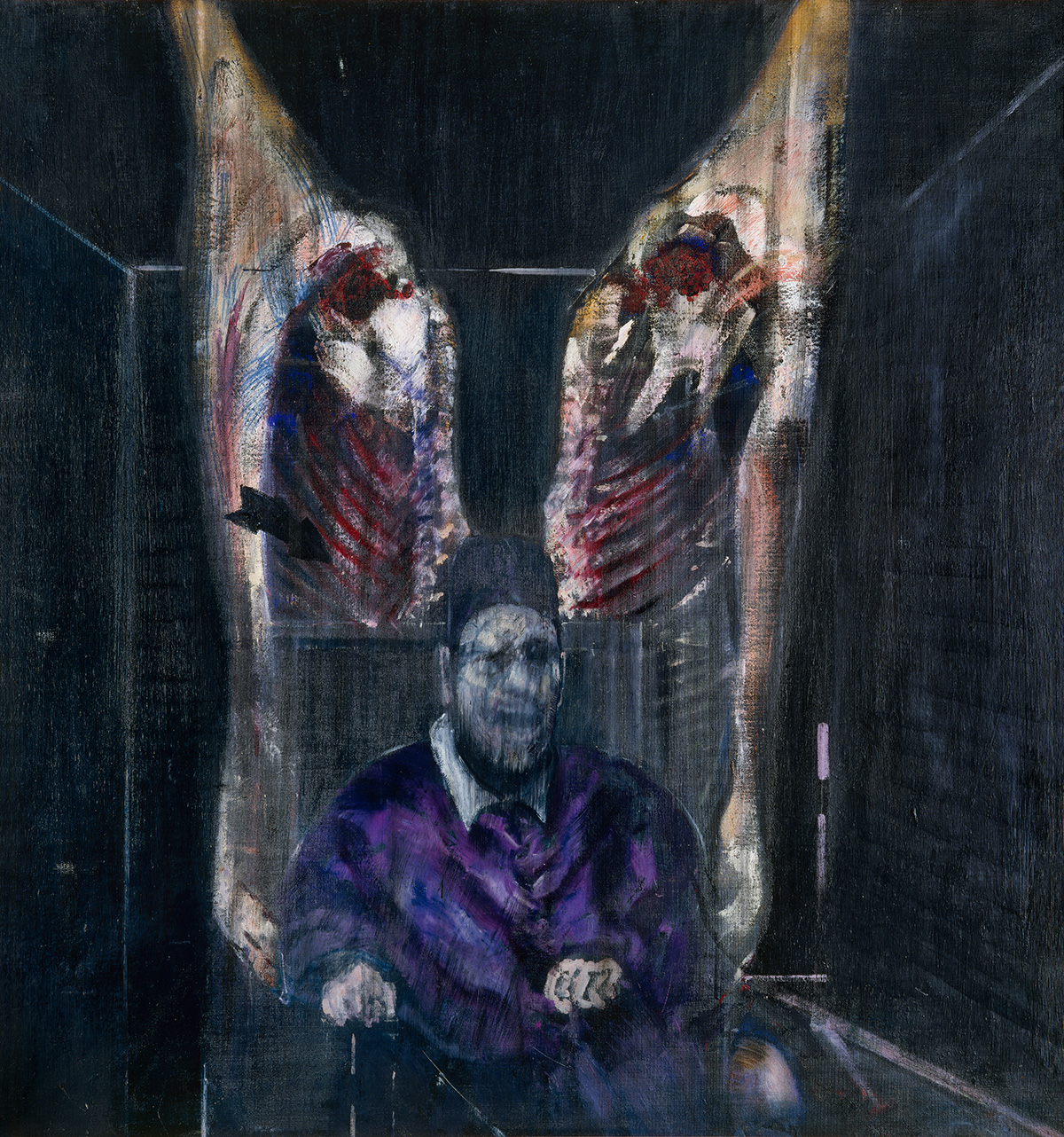 For this month's Catalogue Raisonné Focus we're looking at Figure with Meat, 1954.
Francis Bacon saw the body as a discrete entity, and as meat. He said that when he looked at butchered meat hanging on a hook, he found it surprising 'I wasn't there instead of the animal' [Sylvester, p.46].
While in his teens, and living at Straffan Lodge, Co. Kildare, Bacon was thrilled when he persuaded his friend Doreen Mills to accompany him on visits to the butcher's shop in nearby Sallins to gaze at the hanging carcasses. Bacon's obsessive identification of people as flesh, or meat, is evident in the carcasses that dominate some of his pivotal works such as Painting 1946 and Three Studies for a Crucifixion, 1962.
Figure with Meat was painted in Bacon's studio at 9 Market Place, Henley-on-Thames, which was next door to a butcher's shop. John Deakin had taken a photograph of Bacon in the Rathbone Place studios of Vogue magazine back in 1952 in which Bacon was stripped to the waist and holding two sides of meat. This configuration vividly anticipated the painting.
Excerpt: Martin Harrison, Francis Bacon: Catalogue Raisonné (London: The Estate of Francis Bacon Publishing, 2016) p. 404.
In 1989 the painting made an appearance in Tim Burton's film Batman, in which criminals, led by the Joker, break into an art museum and vandalise various works of art. Upon seeing Figure with Meat, the Joker orders it be spared, remarking 'I kind of like this one. Leave it'. Craig Shaw Gardener's novelisation explains that the Joker saw 'A creature both pitiful and terrifying in its intensity, as if it contained all the pain and anguish and madness in the world'.
Francis Bacon: Catalogue Raisonné can be purchased through our distributor's website.