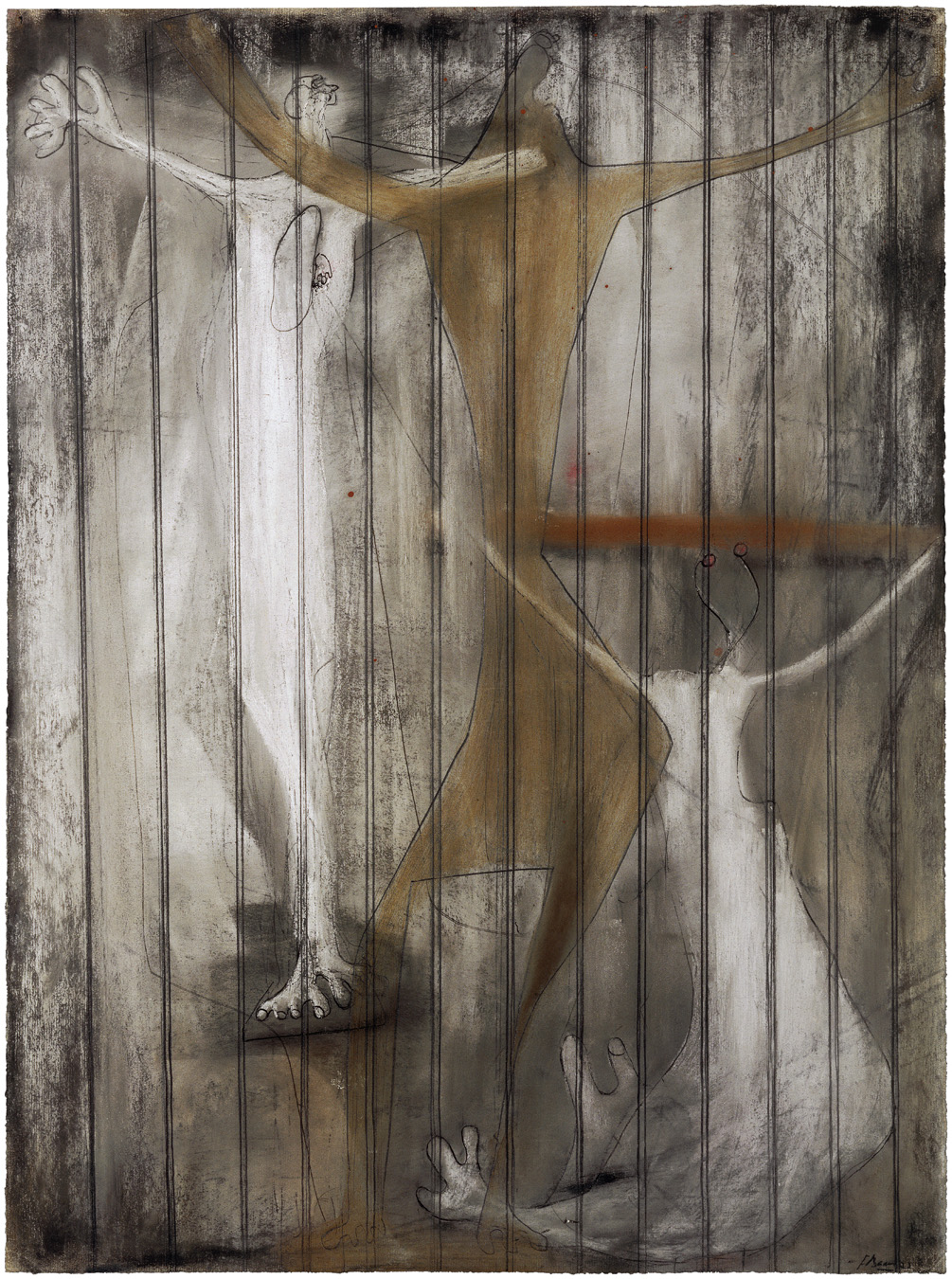 For this month's Catalogue Raisonné Focus we're taking a look at Francis Bacon's After Picasso, 'La Danse', 1933. Formerly known as Crucifixion, a photograph of this work in the Marlborough Fine Art archive is annotated on its rear, 'Francis Bacon states the work was inspired by Picasso "La Danse" and is not a crucifixion'.
"Bacon could not have known in 1933 that Picasso's The Three Dancers (1925, Tate) would be acquired by the Tate Gallery in 1965, and its unforeseen presence in London more than thirty years later may have prompted the change of title."
Excerpt: Martin Harrison, Francis Bacon: Catalogue Raisonné (London: The Estate of Francis Bacon Publishing, 2016) p. 122.
In Francis Bacon's version of "La Danse", the Picasso has been transformed into a more explicit dance of death; notwithstanding his refutation, the subject is, in effect, three crucifixions. Importantly, while Picasso was painting The Three Dancers his friend Ramon Pichot died. The shadowed figure on the right of Picasso's painting, which Bacon used as a reference, is based on him.
It is highly likely that Bacon first saw Picasso's paintings in Paris in the early 1930s, but he could also have seen them in the exhibition 'Thirty Years of Pablo Picasso' that was held at Alex Reid & Lefevre, London, in 1931.
The Three Dancers was also included in a Picasso retrospective in Paris, at the Galeries Georges Petit, in 1932. Although there is no information to shed light on Bacon's movements in that year, there are strong grounds for speculating that he would have made the effort to see this seminal exhibition. 
Francis Bacon: Catalogue Raisonné can be purchased through our distributor's website.