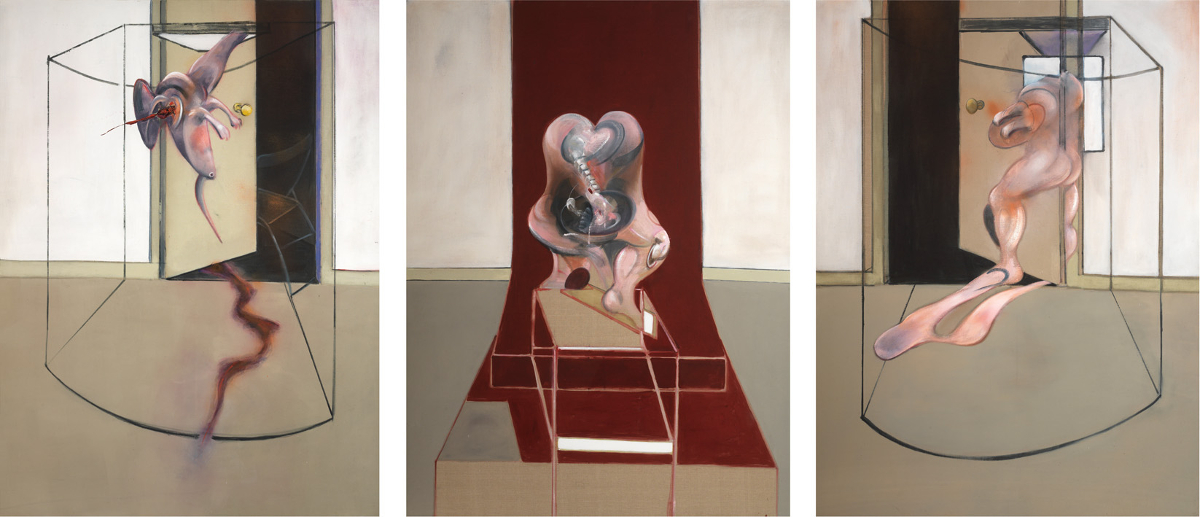 With less than a month left to view a range of Francis Bacon works in 'Bacon - Giacometti' at Fondation Beyeler, we thought it would be an excellent opportunity to explore one of the pieces on display: Triptych Inspired by the Oresteia of Aeschylus, 1981.
The triptych was delivered to Marlborough Fine Art on 18 March 1981 but didn't have as warm a reception as Bacon had hoped. Gallery director Valerie Beston found the centre and right panel 'flat' and 'dull'. The centre panel originally had raw canvas where the floor and walls can now be seen. The left panel was created in 1979 as the centre panel of a so-called 'Mafia' triptych which Bacon had dismantled. The artist added detail such as the Erinyes and the chair in the doorway to create the panel we recognise today.
In Volume IV of Catalogue Raisonné, 2016 Martin Harrison, FSA talks of the theme of the painting:
"Although Bacon frequently cited Aeschylus as an inspiration, this was the only instance where the Greek dramatist was adverted to in the title of a painting. Bacon explained to Michel Leiris, in attempting to define realism: 'I could not paint Agamemnon, Clytemnestra or Cassandra, as that would have been merely another kind of historical painting... There I tried to create and image of the effect it produced inside me.' Thus the real subject of the triptych is Tragedy."
This piece is on display until 2 September alongside Portrait of Isabel Rawsthorne Standing in a Street in Soho, 1967, Head VI, 1949, Self-Portrait, 1987 and more. The exhibition, curated by Catherine Grenier, Michael Peppiatt and Ulf Küster, puts Bacon and Giacometti together to explore the similarities between them and their representation of the human figure. The final room of the show recreates both artists' cluttered studios from historic photographs, bringing them to life in two full-scale projections across the walls and floors. An installation by Christian Borstlap, head of the Amsterdam design studio 'Part of a Bigger Plan'.
If you'd like to order a copy of the 'Francis Bacon: Catalogue Raisonné' please visit Heni Publishing's website.
For more details of the Bacon works on display in 'Bacon - Giacometti' click here.
Bacon-Giacometti
Present - 2 September 2018 
Fondation Beyeler, Switzerland
*Please note all details including names, dates and featured works, opening days/hours are subject to change. Ahead of a visiting, we recommend contacting Fondation Beyeler for all confirmation regarding displays.
Word Ref: Fondation Beyeler website.
Excerpt: Martin Harrison, FSA. 81-03 Triptych Inspired by the Oresteia of Aeschylus, 1981, Francis Bacon: Catalogue Raisonné, Volume IV, pages 1220-1225.