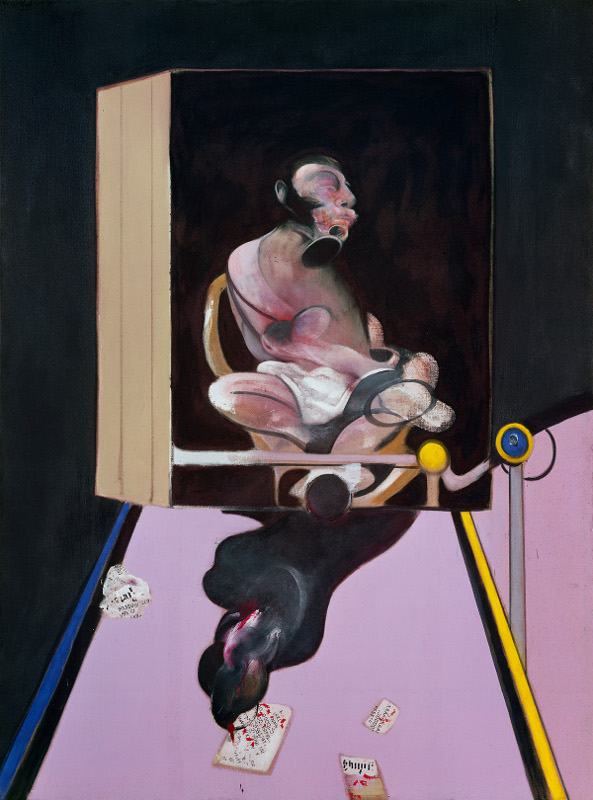 'After all, I've had a very unfortunate life, because all the people I've been really fond of have died. And you don't stop thinking about them; time doesn't heal.'
Francis Bacon's Study for Portrait, 1977, is to go on display at Christie's in New York from 12 May, ahead of an auction on 17 May. The painting, featuring the artist's late lover George Dyer, was painted in Paris and created with oil and dry lettering on canvas.
George Dyer was the subject of many of Bacon's paintings both before and after Dyer's death. The pair met in 1963 and their famously tempestuous relationship ended in tragedy with Dyer passing away of a drug and alcohol overdose in 1971, two days before Bacon's retrospective at the Grand Palais, Paris.
By the time Bacon created Study for Portrait, 1977, six years after Dyer's death, his grief had given way to a period of innovation following the successes of a Retrospective at Metropolitan Museum of Art, New York in 1975 and also his major exhibition at Galerie Claude Bernard. Bacon was quoted as saying 'If the French like my work, then I shall feel that I have, to some extent, succeeded.'
Study for Portrait, 1977 is bracketed with raw linen and the central panel appears to hover before the viewer in three dimensions. Bacon was inspired by Picasso's Cubist collages to use dry transfer lettering in this piece, the effect of which evokes the literary rubble of the artist's studio floor - where John Deakin famously photographed Dyer seated in his underwear.
Francis Outred, Chairman & Head of Post-War & Contemporary Art for Europe at Christie's says: 'While Bacon would never fully come to terms with the death of his beloved George Dyer, the works produced in the wake of this tragedy remain some of the 20th century's most vivid interrogations of the human condition.'
Auction Viewing: Post-War and Contemporary Art Evening Sale
Christie's New York
12-17 May 2018
*Please note all details including names, dates and featured works, opening days/hours are subject to change. Ahead of a visiting, we recommend contacting Christie's for all confirmation regarding displays.
Quote: David Sylvester, Interviews with Francis Bacon, (London: Thames & Hudson, 2012), p. 76. Michael Peppiatt, Francis Bacon: Studies for a Portrait - Essays and Interviews,(New Haven/London: Yale University Press, 2008), p. 262.
Word Ref: Christie's Website