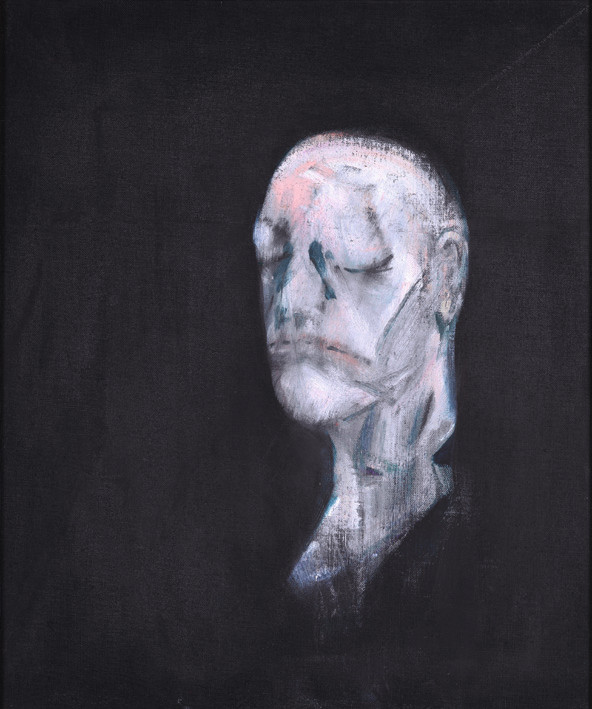 From 14 October to 4 February 2018, the ARoS Museum in Denmark will be displaying works by Francis Bacon as part of their 'Bacon, Freud, and the London Painters' exhibition, in collaboration with Tate London. 
The exhibition will present works from some of the most visionary and uncompromising post-war painters and marks the beginning of a collaboration between ARoS and Tate London.
The works of Francis Bacon that can be viewed in the exhibition include Study for Portrait II (after the Life Mask of William Blake), 1955 (pictured), Figure in a Landscape, 1945, Dog, 1952, Reclining Woman, 1961, Study for Portrait on Folding Ned, 1963, Portrait of Isabel Rawsthrone, 1966, Three Figures and Portrait, 1975, Second Version of Triptych 1944, 1988, as well as two sketches from Bacon.
In addition to paintings from Francis Bacon, the exhibition includes works from Lucian Freud, Michael Andrews, Frank Auerbach, David Bomberg, William Coldstream, R.B. Kitaj, Leon Kossoff, Paula Rego and Euan Uglow.
Bacon, Freud, and the London Painters
14 October 2017 - 4 February 2018
Ticketed admission
Aarhus, Denmark
Word ref: ARoS Museum website
*Please note all details including names, dates and featured works, opening days/hours are subject to change. Ahead of a visiting, we recommend contacting the ARoS Museum for all confirmation regarding the display.