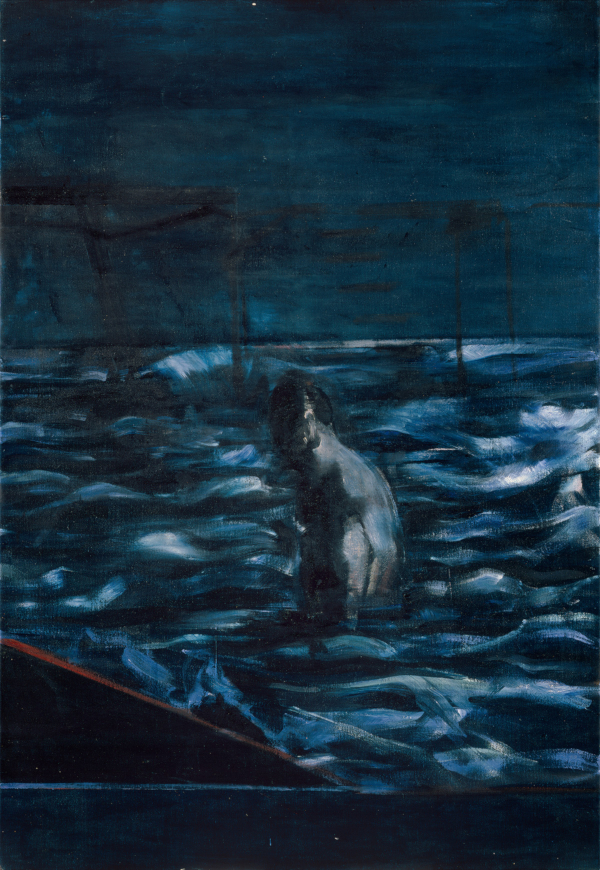 From 17 July through 9 August, Francis Bacon's seascape 'Figure in Sea', 1957 will be displayed as part of a major new exhibition hosted by Sotheby's. Brave New Visions: The Émigrés who transformed the British Art World looks to tell the story of the pioneering émigré dealers and publishers who revolutionised Britain's art world.
Sotheby's exhibition is part of the nationwide, year-long Insiders/Outsiders festival celebrating refugees from Nazi Europe and their contribution to British culture. Participating venues include Tate Britain, the National Portrait Gallery, the Wallace Collection, Glyndebourne and Pallant House Gallery. A series of short filmed interviews to acknowledge and celebrate the contribution of first and second generation refugees can be viewed here.
The exhibition will feature over forty paintings and sculptures, alongside unique documentary material. The exhibition looks to shed new light on the little-explored narrative that binds the founders of what are some of the best-known establishments on the London art scene. This includes Marlborough Fine Art — with whom Francis Bacon signed a contract in 1958. Bacon respected the eye of Marlborough's co-founder Frank Lloyd, and his day-to-day affairs were handled by the gallery's Valerie Beston.
The émigrés parallel revolution in the world of British publishing will also be under the spotlight in this show. The exhibition website credits them with providing a platform for European scholarship in affordable art books which raised the standards of design and reproduction — going on to say that Phaidon and Thames & Hudson remain leaders in this field. Both publishers have produced Francis Bacon publications — recently Thames & Hudson and The Estate of Francis Bacon combined on the release of Francis Bacon and the Mind: Art, Neuroscience and Psychology.
Brave New Visions presents the opportunity to see a rarely exhibited Bacon painting, which is one of only two surviving seascapes by the artist. 'Figure in Sea' remained unrecorded until it was discovered in 1997 — a number of years after Bacon had passed away. In the Francis Bacon: Catalogue Rasisonné, 2016, Martin Harrison, FSA writes:
'It is one of Bacon's most mysterious paintings, and the date, c.1957, is speculative. It is predicated mainly on comparisons with Bacon's Van Gogh paintings of 1957, sharing, first of all, their vigorous, gestural brushstrokes.'
More information on the painting 'Figure in Sea' can be read in our previous news article covering its inclusion in the Ordovas London 2015 exhibition 'The Big Blue'.
Brave New Visions is curated by Sue Grayson Ford MBE, founder of the Serpentine Gallery, assisted by Cherith Summers. Cherith's background in post-war and contemporary art includes the role of art researcher for The Estate of Francis Bacon where she was involved in digitising the artist's catalogue raisonné. Sotheby's will also host four events to coincide with the exhibition — more information on the 'Brave New Visions Events Programme' including how to book tickets can be found here.
Brave New Visions: The Émigrés who transformed the British Art World
17 July – 09 August 2019
Sotheby's, 1-2 St George Street, London W1R 9DJ
Opening hours: 9.00 to 16.30, Monday to Friday (Free admission)
Exhibition sponsors: Ivor Braka Ltd, John & Susan Burns, Connoisseur International Fine Art, Hallett Independent, Mishcon de Reya, Simon & Rebecca Silver.
Word reference: Sotheby's website and press release, Insiders Outsiders Festival website, The Estate of Francis Bacon website, Francis Bacon: Catalogue Raisonné, 2016.
Excerpt: Martin Harrison, FSA. 'Figure in Sea', c.1957, Catalogue Raisonné Volume IV, page 528.
*Please note the exhibition and events are free to attend for the public. Ticketing and venue terms and conditions may apply. All details including dates, names, featured works, opening days/hours are subject to change. If you're planning a visit, we first recommend checking with Sotheby's for all confirmations regarding this exhibition.